Apparently Joe  Harris was not fully briefed on the presence on the North Atlantic of, would you believe another sailor in a Class 40 making an attempt on the 137 day record Gryphon Solo 2 is working on.
This report and challenge arrived from Gryphon Solo 2 earlier today. This is a cut and paste in italics
BEGIN
Joe aboard GS2- 28'21 N X 56′ 14 W on 11/20/15
Hello folks-
Today I became aware of a new competitor out here on the great Atlantic race course and that is a gentleman named Henrik Masekowitz. Henrik is from Germany and is attempting to break the same record as I am- 137 days around the world, solo, non-stop, unassisted for a monohull boat 40′ or less. Henrik started from France two days before I did and is sailing a Class 40 Akilaria RC 1 named "Croix du Sud", whereas as I am sailing an Akilaria RC2. Both boats were designed by naval architect Marc Lombard in France and built in Tunisia by MC-Tech- Henrik's in 2007 and GS2 in 2011. Pretty darn similar boats. I believe Henrik's web site is:http://www.soloceans.de and he is also on YB tracker at
http://yb.tl/hmsailing
(Cooper inserts YB tracker for HM-my comments at end)
So it is "Game On" sports fans… we have a race on our hands, which is I think is what both Henrik and I were hoping for in both originally trying to do the Global Ocean Race, which is no longer happening.
So here we are- completely unexpectedly- joined on the race course around the world- but he coming from France and me coming from Newport. I think the mileages are pretty similar and we will meet up at the equator and then sail the same course around the bottom of the globe- leaving the five great capes to port and Antarctica to starboard- and ultimately around Cape Horn at the southern tip of South America and then back up to the equator and then splitting paths, with Henrik back to France and me to Newport.
Wx chart from Passage Weather for Henrik's area for 0900z Sat. 221-11-15. Henrik is at 33 degrees 46 mins north and 16 degrees 21 minutes west.
Henrik's record attempt is also being reviewed by the World Speed Sailing Records Council in England as my attempt is. It's quite ironic, isn't it?
Upon reflection, I do think it's pretty cool… as long as I win smile emoticon However, if I break the old record but lose to Henrik, that could potentially suck… but let's not go there girlfriend.
AND: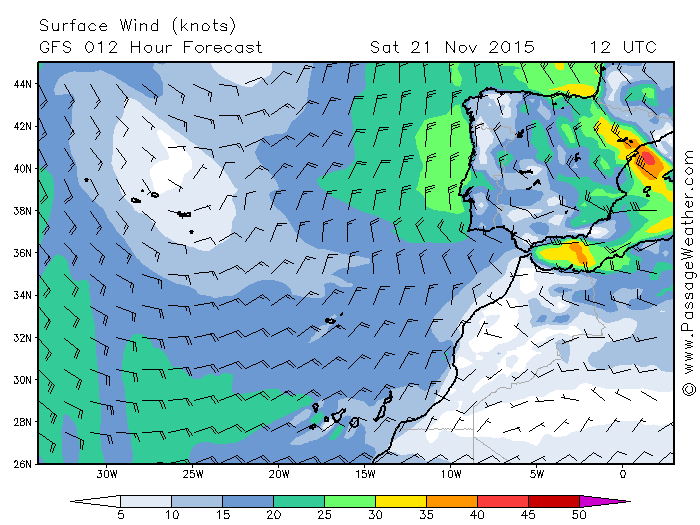 The Wx chart from Passage Weather for Henrik's area for 1200z Sat. 221-11-15
I know for a fact that this will sharpen my competitive instincts and cause me to push even harder, while remembering that you can't win unless you finish safely.
So, Henrik- I wish you safe and fast passage… just not too fast pal… and for the first leg… I'll wager you a bottle of fine French champagne I get to the Equator first- even with your two-day head start!
Best to all-
ENDS:
Henrik is, as of 0400 Saturday, 21-11-15 about 60 miles north of Maderia in modest trades making 7 knots. In 2 hours he will have been going for 8 days . His DMG from last Friday at 0600z to present is on the order of 1100 miles. Based on eight days, his average speed has been around 5.7 Kts.
Next up, the two maxi tris on standby for a shot at the Jules Vern Trophy. That is apart from the boats returning from the TYJV and the Mini Transat…(well those not going by ship anyway). Sheesh going to need a traffic cop out there pretty soon.
Cheers
Coop